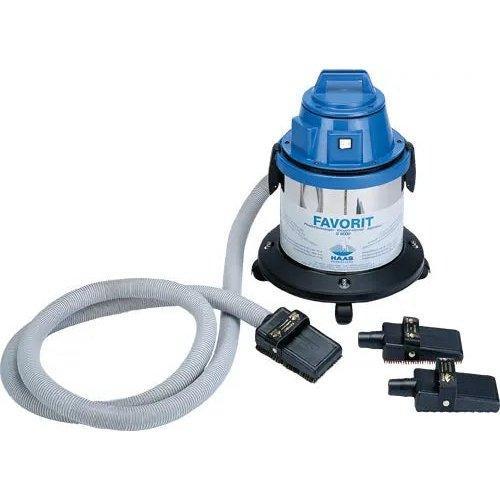 Haas horse vacuum cleaner
The absolute whisperer among the horse vacuum cleaners and still powerful and effective with its 750 watts. Large stainless steel dust boiler, to be used with or without paper bags. Tank capacity: 10 liters. 380 x 520 mm, weight 6.3 kg. Powerful suction turbine, 220/240 volts

Power: 750 watts maximum
Negative pressure: 2420 mm water column

Simple, fast, clean! The Favorit S6000 ECO is the absolute whisperer among horse vacuum cleaners. The extra long suction hose with 3.50m and the cable with 8.2m provide enough room to move and clean. The horses got used to the noise very quickly and enjoy the speedy and effective way of cleaning. The supplied comb and hedgehog suck out all the dirt quickly and effectively and the brush with a horsehair mixture ensures a perfect shine. With only 750 watts, it has class A energy efficiency. The powerful suction technology, which is important for a vacuum cleaner, sucks powerfully and effectively. The large dust kettle made of stainless steel can be used with paper bags and also withstands being kicked by a horse. Equipped with: carrying handle, all-round chassis with 4 space glider swivel castors and hose (approx. 3.5 m). Including: comb, brush, hedgehog attachment, filter bag and household set.
The energy efficiency label refers to the version supplied and tested by the manufacturer, including the supplied accessories. If the device is operated without accessories, the energy efficiency label is no longer valid.

Large dust container made of steel can be used with or without paper bags. Container capacity 10 liters, 380 x 520 mm, weight 6.3 kg. Strong turbine suction, 220/240 volts, 750 W, 67.3 dB. comfortable grip, mounted on a frame with 4 casters.