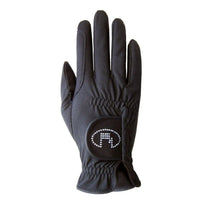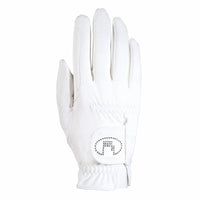 The LISBOA Gloves from ROECKL are the peak of elegance.
This riding glove embodies the perfect symbiosis of function and fashion.
The backhand has a real eyecatcher: the ROECKL hand logo composed of some sparkling Swarovski Crystals!
The color combination white with silver-colored crystals is also brand new.
Made from ROECK-GRIP, the exclusive synthetic suede material, this fine glove is not only highly breathable, but also very supple, in the way that it feels like a second skin.
This gives female equestrians the ideal grip they need when handling the reins.
The gloves are also machine-washable at 30° Celsius (86° Fahrenheit).
And last but not least; the gloves are TOUCHSCREEN COMPATIBLE, allowing you to use your smartphone without having to take off your gloves.