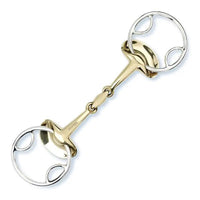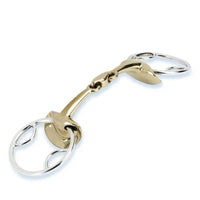 Stübben golden wings 4 in 1 bit double broken
This is the Stübben Steeltec Golden Wings 4 in 1 bit double broken.
Dimensions :
Widths in cm: 12.5 / 13.5 / 14.5 /15 cm
Widths in inch: 5" / 5 1/4" / 5 3/4" / 6"
Ring-Ø: 70 mm - 2 3/4"
Thickness: 14 mm
With Sweet Copper Mouth


Why choose for a Golden Wings gag Bit ?
This Bit will be the ultimate safeguard for the mouth of your horse. It is 100% Pinchless - Gentle and Sensitive without a nutcracker effect. It makes it possible for the rider to give a direct response from the outside of the horse's mouth. The large discs (safeguard plates) offer an optimal protection to the mouth of the horse, more in particular the corners. In short, this bit combines the advantages of a loose ring bit with the direct but gentle action from the outside. This Snaffle is easily accepted, especially by inexperienced horses.


Why choose a SWEET Copper Link ?
Sweet copper allows for the horse a better acceptance because of the pleasant sweet taste of the middle piece.
.